"I lost my leg in a motor cycle accident last year. I was riding to a friend's house when a car crashed into me head-on. My foot was completely crushed.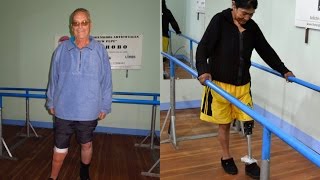 The ambulance arrived quickly and took me to the trauma clinic where they tried to fix my foot by holding the bones together with wire, but it didn't work. The doctors told me that my leg would have to be amputated but they were concerned that it wouldn't heal well in the area where I lived so they told me that I would have to travel to the capital, La Paz, for the operation. It turned out that I had to have two operations at the end of December, one to perform the amputation and the other to perform cleaning on the amputation because the scar had not healed correctly.
After the loss of my leg, I couldn't do anything for myself. I couldn't go to my English teaching job because I couldn't even get out of bed. This meant that I had no money at all as all my previous savings had gone to pay for my medical treatment. I ended up coming to live with my daughter and she cared for me and helped me to survive.
I found out about this prosthetic clinic by one of the staff members at the hospital
Now that I have received my prosthetic leg and I can walk again, my first priority is to return to work so that I can pay back my daughter as she has been providing everything for me while I have been enduring this disaster. I want to feel independent again and not rely on my family and friends anymore. I feel that this leg has given me a new life.
Thank you, Charles"
To see how you can help other patients like Charles, donate now.