This story highlights a personal story from Matthew Pepe, the founder and president of Bolivians Without disAbilities. It explains what motivated him to create this foundation.
25 Years As A Software Engineer
In 2006 I quit what had become a meaningless 25-year career as a software engineer and decided to travel around the world for six months. I hoped to find a new viewpoint on life to help me decide what might be "next" for me. Four years later I was still traveling and I had been to 50 countries. Then, a few months after I crossed the frontier into Bolivia, I met a 10-year-old amputee from a poor family, and my life changed.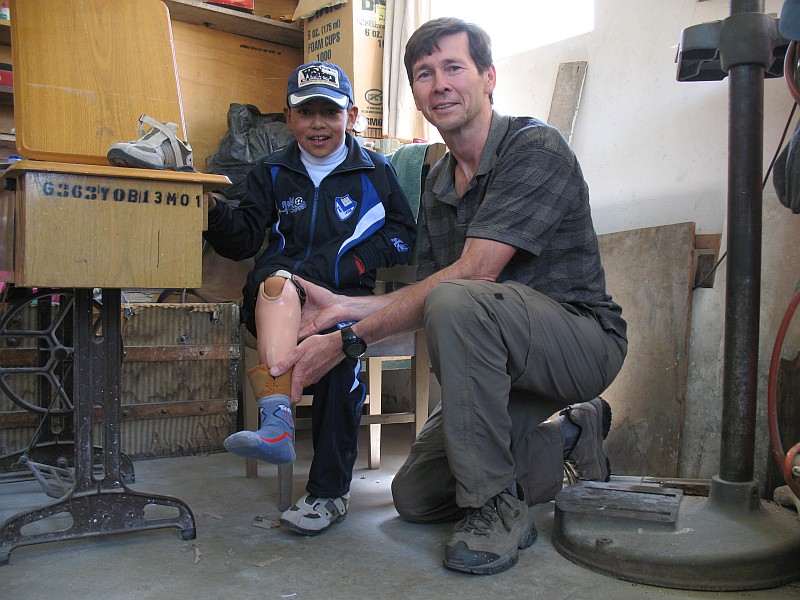 Life in Bolivia
I had been planning to stay in Bolivia for only two weeks, but I was quickly fascinated by the country and decided to settle down for a while to learn Spanish. I also started doing volunteer work at one of the government-run hospitals for those with disabilities. My primary job was to help in the prosthetic department to assist with the fabrication of prosthetic limbs. It was there that I met Ismael. Ismael was a young boy who had lost one arm, one leg, and his toes, all of which had been severed in a tragic and unnecessary encounter with a train. He was only three years old at the time of his accident.
Ismael Was Missing His Arm And Leg
When I met Ismael he was 10 and he had only crudely-made prosthetic limbs. Since his family was very poor, they couldn't afford to pay for Ismael's medical needs. He wanted to be like every other boy — to laugh, run and play. But he couldn't. Not only was he physically incapable of most of those actions, but he was always horribly humiliated to be so different from other children. He would always walk around with his one severed hand buried deep in his jacket pocket. I decided that somehow I would do something special for him.
Two months later, on the day that I replaced his crudely simplistic wooden prosthetic foot with one donated to me from the US (Thank You Ray Pye at Mobility), he cried as he told me of his dream to be able to do what the other kids could do. And I cried with him.
Germinating The Idea
It was on that day that I decided to research prosthetic options that would be appropriate for Bolivia — i.e., durable options that could be locally and inexpensively made. I felt compelled to provide a new quality of life to boys like Ismael, and to as many other low-income Bolivian amputees as possible.
In Bolivia, when you lose a limb, you also become almost instantly unemployed — and unemployable. You feel that you have suddenly become a tremendous burden on your family and your friends. Thoughts of suicide become common, and alcoholism is frequent.
So from that day forward, I devoted my life to finding prosthetic designs, materials, tools, machines, and funds to help these amputees. Eighteen months later, I had created and opened a new prosthetic center in La Paz Bolivia called Centro de Miembros Artificiales (CMA) for all low-income Bolivian amputees.
Seven Years Later
Seven years later that same center is still in operation and every year it sees more patients. It is staffed by Bolivian employees and international volunteers. In the past seven years, we have helped 350 amputees to walk again, to find employment to support their families and to find a will to live long, happy, productive lives. I am still involved today as the fundraiser, volunteer coordinator, and general consultant.
Donations are always desperately needed to pay for the construction of more prosthetic limbs, as well as physical therapy, for low-income Bolivian amputees. Our waiting list is never-ending. For this reason, in 2015, I also established the US-based 501(c)3 called "Bolivians Without disAbilities". It is this charity which now collects tax-deductible donations to pay for the construction of those life-changing and critical prosthetic limbs. Over 97% of all funds collected go to the Bolivian prosthetic center.
I have dedicated my heart, brain, and hands to changing lives. Ironically the humble and grateful amputees that I have met here have changed my life too. For that, I am forever grateful.
Donate here to give the life-transforming gift of mobility to low-income amputees are accepted.
Thank You to LIMBS international for giving us the designs to make the LIMBS polycentric knee.
Thank You to Northwestern University Prosthetic-Orthotics Center for giving us the designs to make the Shape and Roll foot.