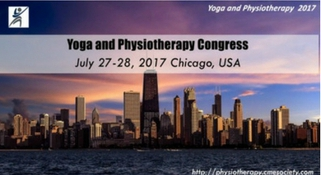 Bolivians Without disAbilites is proud to inform you about the Yoga and Physiotherapy Congress July 27-28, 2017 Chicago, Illinois, USA, where you can turn Your Passion, Knowledge & Experience into a Rewarding Career.
Before or after this Congress, please consider using your physiotherapy expertise to change the lives of low-income Bolivian amputees by volunteering with Bolivians Without disAbilities at our partner's prosthetic center in La Paz, Bolivia.
---
Physical therapy volunteer
The role of the physical therapist at the prosthetic clinic in Bolivia, FUNPROBO, is vital as the clinic does not have a permanent PT so a volunteer is required throughout the year to aid the assessment of the patients suitability for a prosthesis, what exercises they may need to do to be suitable, to practice in a temporary prosthesis to aid confidence and stamina while they wait for a limb to be made, support the Bolivian prosthetists in issuing limbs and for practice and gait re-education once the limb has been issued prior to discharge from the service.
Person Specification
Essential abilities
– Physical therapy Degree (or on a physical therapy degree course for undergraduates)
– Police record check/CRB/DRB check to work with vulnerable adults or children
– Professional registration for your country (if you are fully qualified)
– Basic knowledge, skills or experience with Musculoskeletal physical therapy and gait re-education.
– Ability to keep up to date notes in a legal and timely manner (notes are all in English).
– Basic computer literacy skills (patient database, notes, paperwork and clinic information are kept electronically)
Desirable Abilities
– Some basic Spanish (or a long enough volunteer position here and the motivation to be able to learn some) as the prosthetist and majority of the patients do not speak English
– Professional insurance cover to be practicing clinically abroad.
– Knowledge, skills and experience with amputees (can be reading or studies if you have not had opportunity to work with amputees yet)
– Knowledge, experience or at the minimum background reading on the PPAM Aid
– http://www.ortho-europe.com/product/pneumatic-post-amputation-mobility-aid-ppam-aid/
– Knowledge of PhysioTools program and exercise library (sign in available at clinic)
Job Description
The role of the PT is to complete an initial assessment of the patient after the clinic doctor has deemed the patient fit to receive a prosthesis. The assessment is done following the clinic protocol paperwork including a subjective/objective assessment/body chart/analysis and plan as per usual therapy documentation. After the assessment the PT can then give advice/exercises as appropriate from their assessment. There are ready made exercise and advice sheets to be given out as required and the clinic has access to 'physiotools' on the clinic computers to provide alternative exercises. Then the majority of patients can start walking in the Ppam aid. This is a temporary prosthesis which can be made to fit the majority of patients as it is adjustable and allows the patient to start walking practice, gait re-education, muscle strengthening and confidence building on their first day in the clinic. The amount of walking and duration will depend on the patient's abilities and stamina, but they can practice up to 4 times in one day with a 30 min rest in between each maximum 1 hr session in the ppam aid. In the ppam aid they can practice walking, balance, in the parallel bars or with crutches/frame. Once the prosthesis is completed the role of the PT is to work on gait education, confidence building, balance and stamina while the patient gets used to the new prosthesis. Some patients will get on very quickly only requiring a few days of practice, others may need to return for a few weeks to be deemed safe to leave with their prosthesis.
Available Equipment
We have the ppam aid, parallel bars, crutches, a frame, walking sticks and a gym ball at the clinic as well as 4 steps and a ramp for rehab requirements.
Please familiarize yourself with the ppam aid and amputee rehab before you volunteer at the clinic as you have the responsibility with the prosthetist to ensure each patient leaves safe, capable and confident on their prosthesis.
Application
Please Click  For Volunteer Application Form